Hotel Jolie


hotel
Via Mascagni, 6/c - Zona Alba - Riccione (RN)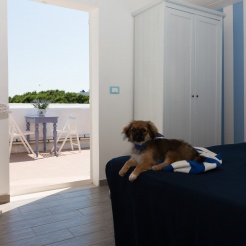 is located in a populated area near the sea
The hotel Jolie is a small 2-star bed and breakfast hotel, perfect for a seaside holiday in total freedom. The hospitality, courtesy and professionalism of staff are the strengths of this structure in addition to a central location and close to the sea. The hotel has a special care for 4-legged friends who are welcomed with their solutions and services reserved. Open from Easter to mid-September.
The property offers accommodation for a minimum of 1 nights and it has 99 bed places
Prices
Air cond €.6,00 - car park €.6,00..
Single

Min.
€. 28,00
Max.
€. 60,00
Double

Min.
€. 56,00
Max.
€. 120,00
Triple

Min.
€. 84,00
Max.
€. 180,00
Quadruple

Min.
€. 112,00
Max.
€. 240,00
Address
E-mail
See map
Distance from Hotel Jolie to:
(Using public transportation)
Seaside: 5 minutes
Railway Station: 20 minutes
Airport: 20 minutes